Where does the line get drawn in renaming monuments, schools, etc.?
Toy Box, 2nd Edition
Hello and welcome to ToyBox - a blog that unpacks systemic racism and the workplace. We're only on our second edition and we have 47 Toy Box members, up from 32 last week. Thank you so much for your support and shares! If you know someone who wants to learn more about systemic racism in the workplace, send them an invite:
What's new this week?
We've made a few additions based on your feedback:
Let us know what else you want to see and we'll try to make it happen:
---

The Toy Box Model explained
Systemic racism in the workplace is about distributing resources like interviews, job offers, promotions, etc. Most work systems distribute resources in a way that tends to benefit white men even though many weren't deliberately designed that way. Thinking about resources at work like toys helps us understand why these things happen and how we can fix it. For more info, check out the "Unpacked" section below.
You ask, we answer
Question: Where does the line get drawn in renaming monuments, schools, etc.?
How to be an ally at work this week
Educational resources
Want to learn more?
Next Week: Hiring Systems
Using the toy box model, we'll tell you what's wrong with most hiring systems and give you some concrete steps on how to improve yours.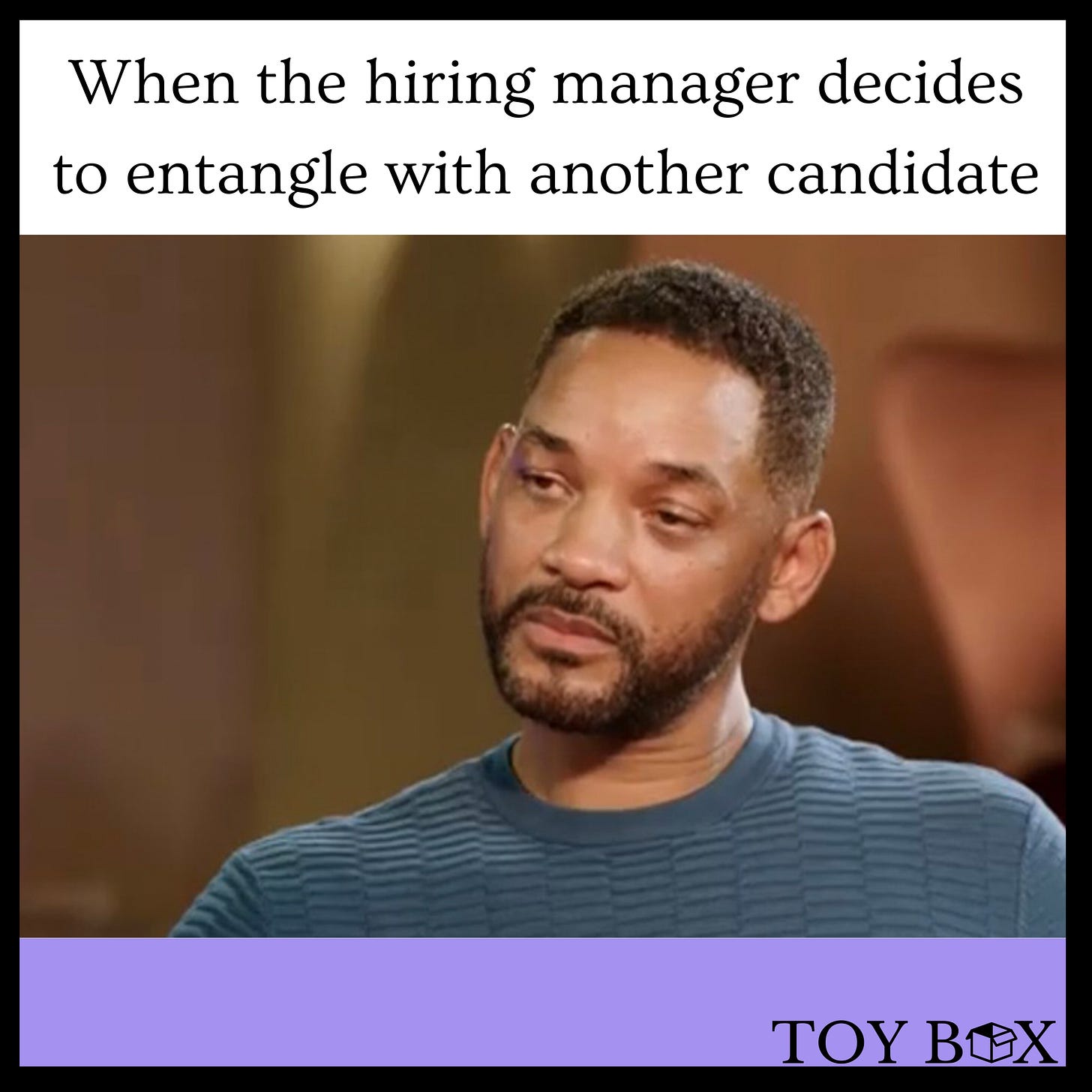 ---

The Toy Box Model
If you've read the medium post, feel free to skip down to "5 Steps to Changing the Toy Distribution System"
It's a hot summer day and you volunteered to supervise the neighborhood children as they play in the local park. Your neighborhood is very diverse, featuring families from different racial backgrounds. A local nonprofit organization has donated a big box of identical toys for the kids to play with. Since you're supervising, you're in charge of distributing them to the neighborhood kids.
You're excited because there are an infinite number of ways to distribute these toys to the kids. You could have them earn the toys by answering some trivia questions first. You could throw the toys on the ground and have the kids pick them up - first come first serve. You could even hoard them all for yourself and laugh at the kids as they watch you live your best 8 year old life.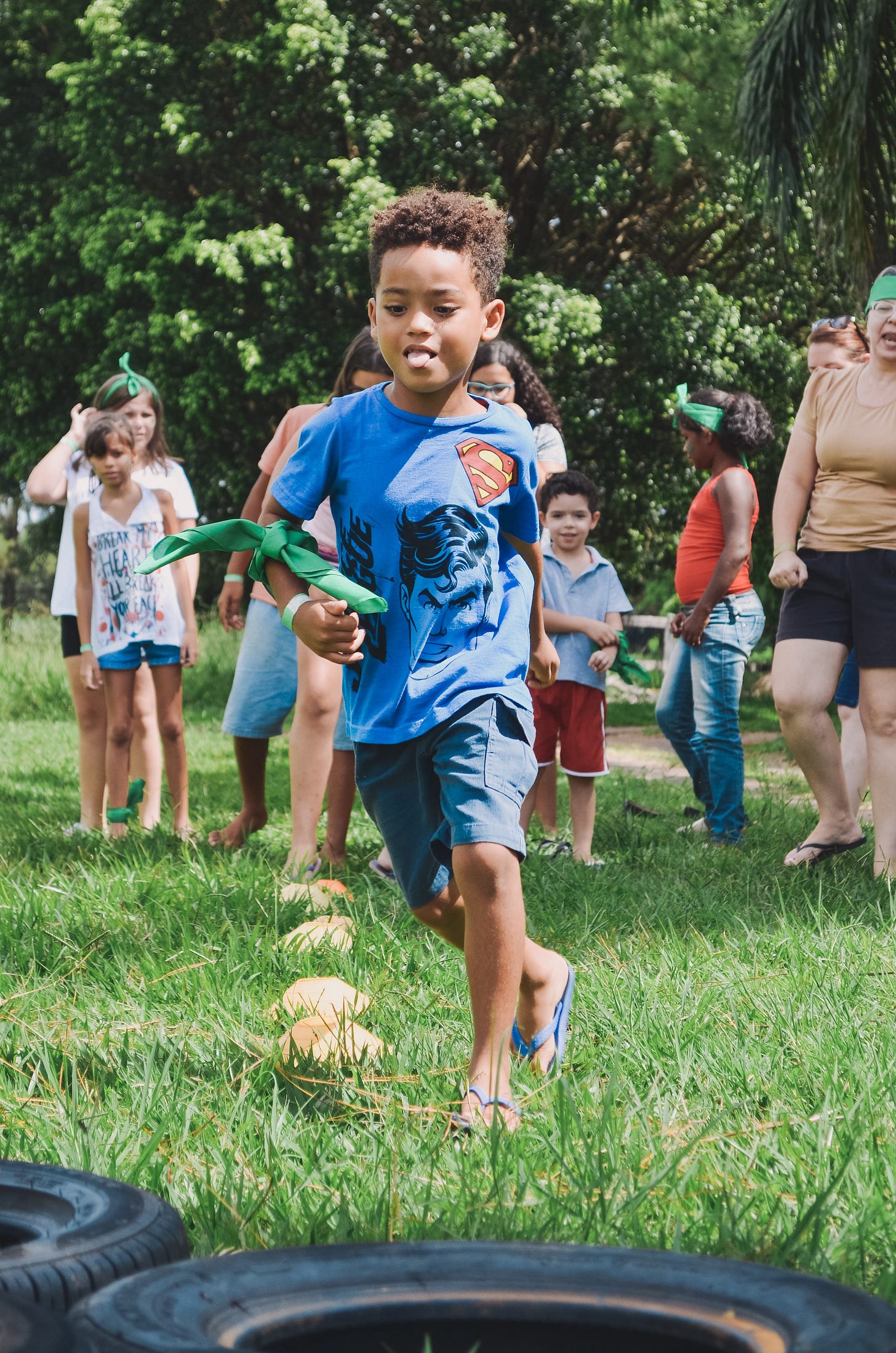 But you realize that you love making kids happy, regardless of who they are, so you opt to distribute the toys evenly. You used your philosophy of spreading joy to all children to build a distribution system that resulted in each child getting an equal piece of the toy box. But what might have happened if you had a different philosophy?
White supremacist philosophy would state that the White kids should get to keep the vast majority of the toys simply because they are White. A White supremacist would use that philosophy to build a distribution system that assured the White kids would get to keep most of the toys.
Maybe the system would involve making the children first answer some "trivia questions" that White kids are more likely to answer correctly. Maybe the system would involve throwing the toys in the direction of the White kids and announcing that the toys are "first come first serve."
Regardless of the mechanics of how the distribution system operates, if in the end, the White kids end up with most of the toys, the system is a White supremacist system.
Did some non-White kids end up with toys by answering the trivia questions correctly? Sure. Did some non-White kids run fast enough to pick up some toys from the ground before the White kids got them all? Sure. But in the end, the White kids got to keep most of the toys.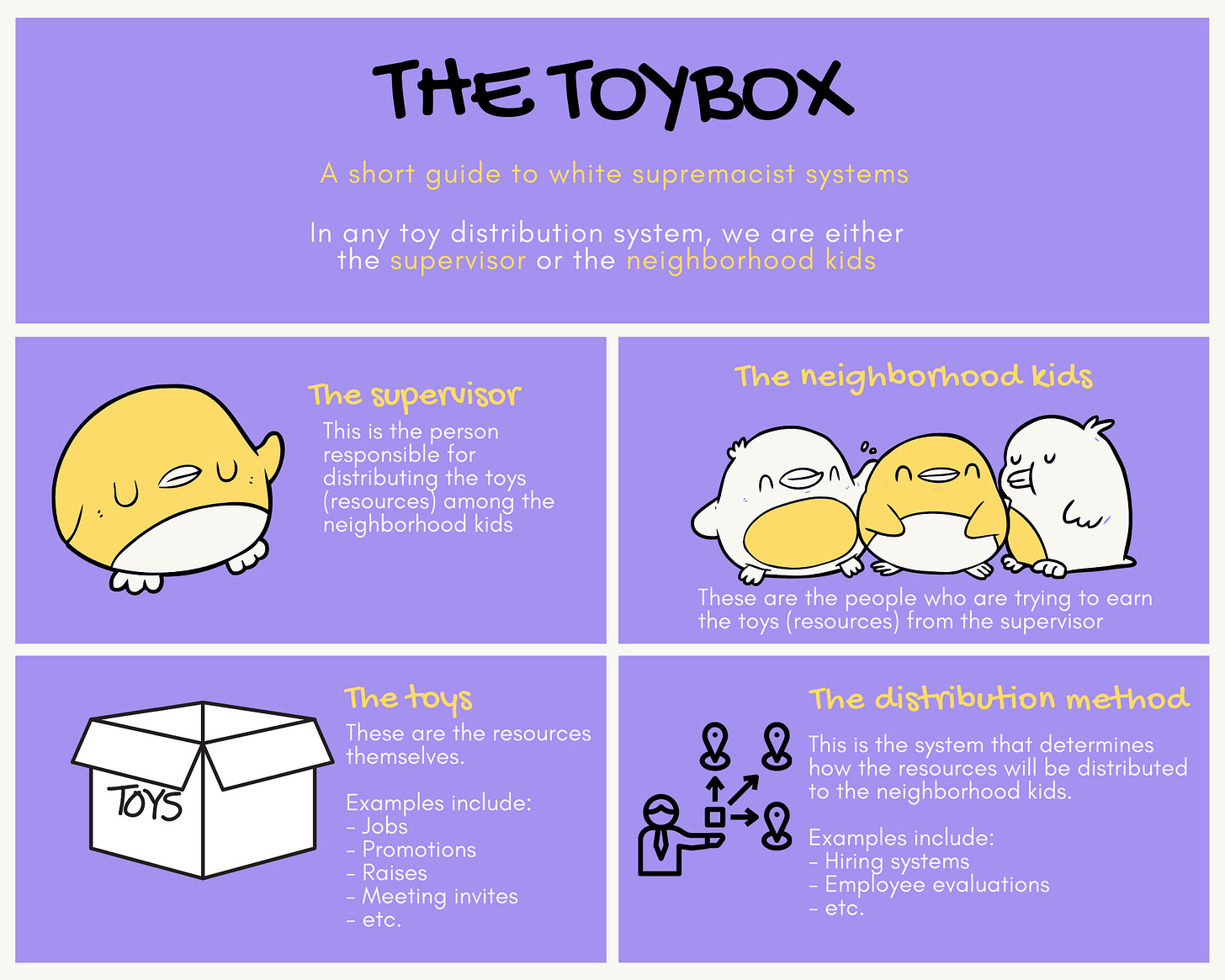 That is white supremacy.
The trouble with America today is that most systems are by default White supremacist systems because of our history. Modern corporations (business systems) were designed by wealthy White men to reward other wealthy White men. Modern hiring processes were built by the same men to assure that they and their friends got preference over others. Election systems were built to require "trivia questions" (poll tests) back in the 1960s. Today, now that they have been outlawed, politicians are pushing to require multiple forms of ID to vote, knowing full well that White people are more likely to have them.
Allyship is about dismantling white supremacist systems
My goal with this community is to help us understand each of these "toy distribution" systems that govern our lives so that we can work to dismantle them. In every system, we are either the supervisor distributing the toys, the White kids who end up with most of the toys, or the non-White kids who miss out. Deep down, none of us want most of the toys going to the White kids. Not just because we have Black friends who we know deserve equal toys, but also because injustice anywhere is a threat to justice everywhere.
And we can change it! How would we change the white supremacist toy distribution system into an equitable toy distribution system?
5 Steps to changing the Toy Distribution system
Diagnose the problem
We confirm that the White kids are in fact getting most of the toys

This looks like data analysis. Who have you hired? Who have you promoted? How have people of different backgrounds done on performance reviews?

We figure out how the White kids are getting more toys than others. Is it the trivia question? Is it where we're throwing the toys?

This looks like group brainstorming about company systems. What applicant tracking system are you using? What criteria do you have for promotions? How
Change your system
We get rid of the white supremacist toy distribution system

Get rid of your applicant tracking system. Sunset your employee evaluation criteria.

We design a toy distribution system that evenly distributes toys to everyone

Create a new hiring system that's more fair to everyone. Create employee evaluations that more directly measure good work.

We check the output to make sure our new system results in each kid getting an equal amount of toys

It's step 1 all over again. Do an analysis of your hiring / promotion / evaluation system. Who have you hired? Who have you promoted? How have people of different backgrounds done on performance reviews?
That's it. It's easier said than done, but this basic framework will help you get started. And this community is here to help you, providing nuanced insights on the mechanisms of all sorts of real-life toy distribution systems. We'll cover a few of the systems most relevant to you including hiring, promotions, salary negotiation, and more.
---
See you next week!
If you haven't already, don't forget to subscribe to get info straight to your inbox
If there's something specific you want to learn about, let us know below or respond to this email.